TEC- TOOLS FOR THE EVALUATION OF COMPETENCE OF PEOPLE WITHSPECIAL NEEDS IN LINE WITH ICF
newsletter 01, February 2013
Welcome to our brand new newsletter the aim of which is to inform directly, the persons concerned, about a newly started European project called – "TEC- TOOLS FOR THE EVALUATION OF COMPETENCE OF PEOPLE WITH SPECIAL NEEDS IN LINE WITH ICF."
It is our pleasure to provide you with the deeper insights of our – goals, activities, thoughts, achievements, challenges, doubts or questions.

Have a fruitful reading time!
The consortium
TEC
The TEC project in accordance with the European Disability Strategy 2010-2020 which remarks the demand of an increasing coherence among Member States policies and "has the overall aim to empower people with disabilities so that they can enjoy their full rights, and benefit fully from participating in society and in the European economy," has the main purpose to develop innovative and effective tools for the work placement, evaluation and measurement of competences of adult people with disabilities in line with the International Classification of Functioning, Disability and Health (ICF).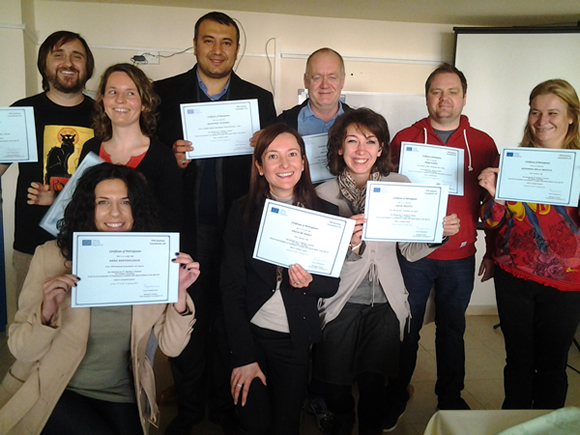 ICF
The International Classification of Functioning, Disability and Health (ICF) is a classification of health and health-related domains. These domains are classified from body, individual and societal perspectives by means of two lists: a list of body functions and structure, and a list of domains of activity and participation. Since an individual's functioning and disability occurs in a context, the ICF also includes a list of environmental factors.
This classification has been defined by the World Health Organization in 2002 and has got a universal and multidisciplinary approach because it redefines the same concept of disability using a standard integrated common language.
WHO IS BEHIND - PARTNERS?
The project consortium is made up of Education Centers of Italy, Slovakia, Norway, Cyprus and Turkey active in the field of training and work placement of adult people with disabilities gathered in order to better the process connected to the achievement of their activities.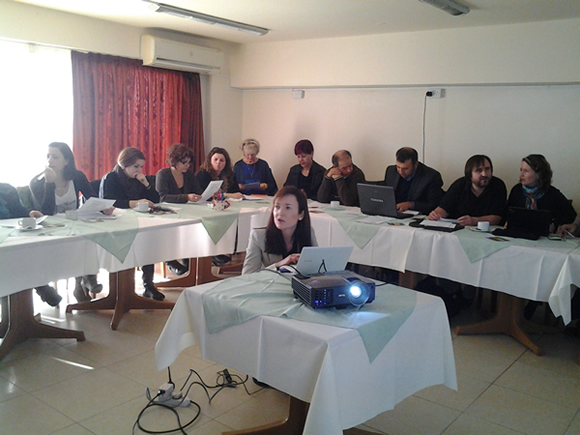 Italy: Geminas
Geminas is an adult education center funded in 1997. It provides adult, vocational and continuous training, counseling and research activities connected with the labor market changes and equal opportunity issues. In the last years Geminas has developed specific skills and competences into the work placement of vulnerable people and people at the margin of the labor market (people with special needs, immigrants and long term unemployed) providing counseling, guidance and following the person during the whole placement process. Geminas works for and in partnership with: Public authorities, foundations, social and volunteering associations, private organizations, educational and school institutions, small and medium enterprises.
Contacts: Geminas
http://www.geminas.it/
giovanna.dellabriotta@geminas.it
Phone: +39 342 201699
Cyprus: YPM Business Consultants
YPM Business Consultants is a network of consultants and trainers based in Cyprus. Their core business is the training and consulting of the Wellness Tourism stakeholders and the public in general, for topics related to the emotional and physical health, wellbeing and development of wellness tourism.
Over the years they have organized seminars focusing on alternative therapies, such as herbalism, aromatherapy, color therapy, reflexology, nutritional medicine, sound therapy and life coaching.
They are one of the founder members of the Cyprus Herb Society and work in cooperation with the private and public sector in order to implement their projects. As a part of its corporate social responsibility, the organization has been one of the founder members of the Alzheimer's Day care centers in Cyprus and is actively involved in many other projects focusing on the social and economic welfare of specific groups in Cyprus and abroad such as children with disabilities and autism, Alzheimer's and cancer patients.
Contacts: YPM Business Consultants
Yioula Papakyriacou (yioula@ypmbusinessconsultants.com)
Phone: 00357-22462716 and +357-99427980
Norway: Sjøhuset, Godalen Videregående skole
Sjøhuset (The sea house) is an alternative training and education center for youth with statutory right to further education, where training, work and production go hand in hand. The aim of this school is to prepare them for participating in the society in general and the work life in particular.
The school is a department at Godalen Vocational College and the foremost competence center within the region on special education for low motivated students, youth at risk and youth with learning difficulties and behavioral problems. Many of the students have different diagnosis like Asperger, ADHD, ADD.
All of the staff focus on evidence based teaching methods and are constantly updated on the latest research and development in the field of special education.
Contacts: Sjøhuset competence center for alternative education
www.godalen.com
Thomas Nilsen (thomas@nilsen.com) Phone: +4797192940
Slovakia: Slovak Blind and Partially Sighted Union (UNSS)
The Slovak Blind and Partially Sighted Union (UNSS) is an NGO of blind and partially sighted people, their family members, friends and specialists working in the field of visual impairment.
The general objective of this organization is to improve quality of life of people with visual impairment; to prepare them for equal and integrated life; to give them a chance to participate on creating conditions for their full participation in society; to provide special services – social counseling, social rehabilitation and advocacy related to visual impairment.
Professional services are provided through the main office and 8 regional centers covering the whole country.
UNSS is a member of the Slovak Disability Council, the European Blind Union, the International Council for Education of People with Visual Impairment, the International Guide Dog Federation and other national and international authorities.
Contacts: Slovak Blind and Partially Sighted Union
http://www.unss.sk
Tímea Hóková (hokova@unss.sk)
Turkey: 80. Yıl Engelliler
80. Yıl Engelliler was founded in 2004 by The Ministry of Family and Social Policies in Turkey.
This institution provides daycare to people with disabilities between 6 and 60 years old. There are various activities facilitated by the team of involved professionals (psychologists, social workers, assistants).
Contacts: 80. Yıl Engelliler
www.engelsizosmaniye.com İlyas KÜÇÜKOSMANOĞLU ((aileosm@gmail.com ekrem75@yahoo.com) Phone: +905054342713 – +905436903073
What IS THE PURPOSE?
Investigating the application of the ICF in each country;
Developing innovative tools to evaluate competences of people with disabilities related to work placement;
Verifying developed tools with specific target groups of people with disabilities;
Gathering feedback and re-evaluating the tools;
Preparing the final model and disseminating results.
HOW WILL IT ALL BE ACCOMPLISHED?
By analyzing, adopting, testing and creating models applicable with various target groups – people with visual impairment, people with intellectual disabilities and socially disadvantaged people.
PAST
There have been two meetings carried out: 24 – 25 September 2012 the kick-off meeting in Sondrio (Italy) and 21 – 22 January 2013 the consortium meeting in Limassol (Cyprus).
Except for visiting two beautiful countries, enjoying some forms of alternative therapies used also for people with disabilities (sound therapy, herbal remedies , movement therapy), the consortium was concerned with introducing involved organizations, defining project agenda, reviewing the ICF and sharing responsibilities. Geminas will be for instance responsible for project management in general; Sjøhuset, Godalen for preparing the research for needs analysis and comparison of existing European education models; 80. Yıl Engelliler Mesleki Rehabilitasyon Merkezi Müdürlüğü for models implementation and Slovak Blind and Partially Sighted Union for project dissemination and YPM Business Consultants for the Evaluation.
In Cyprus the project partners also visited the Christou Steliou Ioannou Foundation – an institution providing professional support in the area of employment to people with intellectual disabilities.
FUTURE
Within the next period, partners will start the project dissemination and a detailed analysis of ICF application in their countries.
Moreover there will be ICF core-sets defined in relation to specific target groups project partners are going to work with (Cyprus, Turkey and Italy with people with intellectual disabilities, Norway with socially disadvantaged youth and Slovakia with blind and partially sighted people). The consortium is meeting again 23 – 24 May 2013 in Stavangar (Norway).
For more information please consult the common project website to be updated by the consortium throughout the whole life-spam of the TEC project:
http://www.grundtvigtec.com/
ABOUT
The Grundtvig program focuses on the teaching and study needs of learners taking adult education and "alternative" education courses, as well as the organizations delivering these services. It aims to help to develop the adult education sector, as well as enable more people to undertake learning experiences, notably in other European countries. the Grundtvig Learning Partnership program is a framework for small-scale co-operation activities between organizations working in the field of adult education in the broadest sense. Transnational meetings between the organizations involved in the partnership, exchanges of staff and adult students, exchanges of experience and good practice, fieldwork, project research, etc. aim at promoting the circulation of good practice, maximizing the value of the transnational exchange, and thus ensuring the wider impact of results.
This project has been funded with support from the European Commission.


This publication [communication] reflects the views only of the author, and the Commission cannot be held responsible for any use which may be made of the information contained therein.
Copyright 2013: the TEC consortium